Some highly collectible Fords under the hammer, including:
A superb four-car selection of Capris with a 1960 1600 GT XLR and 1972 3000 GT XL
Iconic Capri 2.8i with Low ownership and a Brooklands in fantastic condition
Ford Escort Mexico leads a four-car batch of our 'fast' Ford Escorts
A classic 1973 Ford Cortina 2000 GXL with low ownership and mileage
Classic Car Auctions are preparing for their final sale of the year on the 7th December with a fine selection of classic fast Fords from the 1960s to the 1980s including a highly sought-after Escort Mexico.
Gary Dunne Classic Car Auctions Manager commented: "We love our Fast Fords at CCA. We always get a very high-quality selection of cars and this auction is no different."
"The Mexico has to be top of the bill, a very nostalgic car for many, conjuring up images of rallying as this car was built to honour Ford's rallying history and of course they came in great colour schemes."
"The Capris are also pretty special, four cars spanning the late 60s to the late 80s, great cars, sure to attract interest."
So, if we start from the earliest car on offer the 1969 Ford Capri 1600 GT XLR estimated at £20,000 to £25,000. A superb and rare first generation of the classic Capri that was restored in 2018. We understand there are only eight of these 1969 cars left and this one comes with its original registration number and engine.
Our next Capri is from 1972, a Mk1 3000 GT XL which was supplied new in right-hand-drive to South Africa. Now fully restored and estimated at £20,000 to £23,000 will be registered with the DVLA in time for the auction.
We now move to the Eighties and our first Capri of this era is the 1981 2.8i with just 14,000 miles on the clock. This low ownership car, with the current meticulous keeper for the last six years, is very sought after. Finished in the classic two-tone colour scheme Forest Green over Crystal Green it is also fitted with the Pepper Pot style alloy wheels. This is a very original car and with minimal work could be a Concours contender.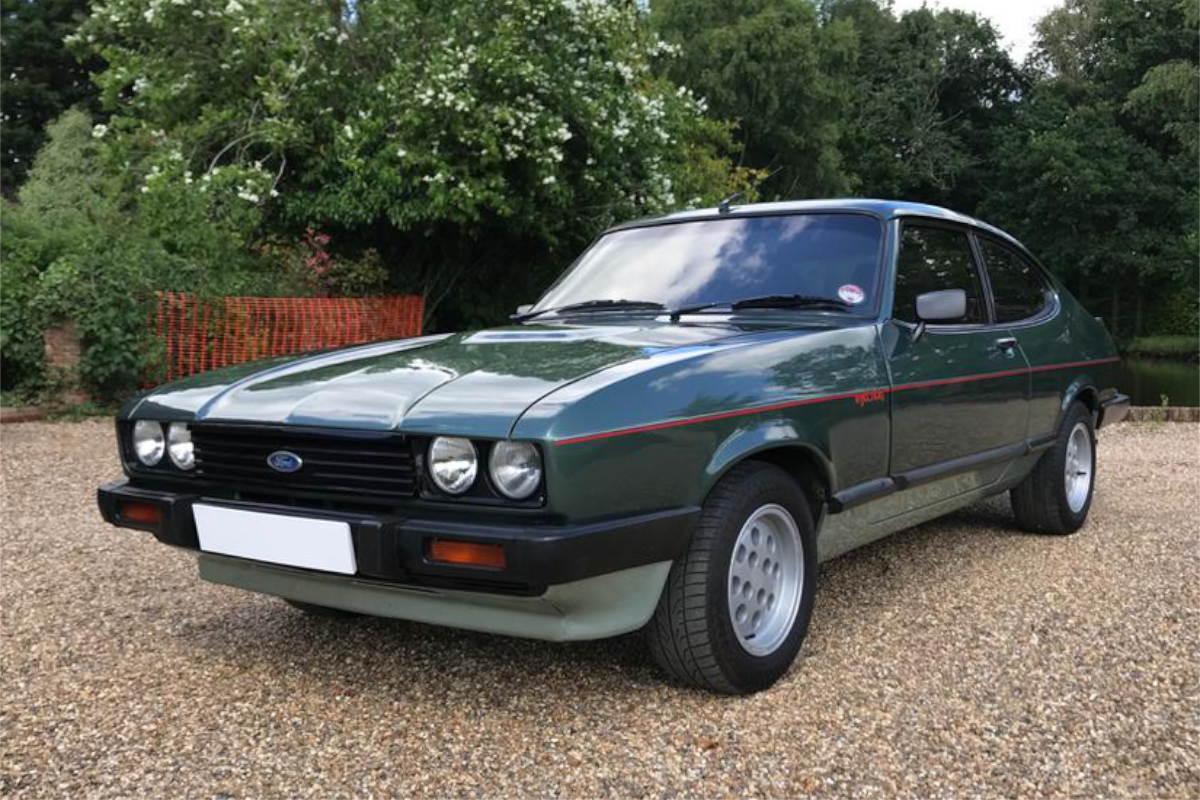 The fourth Capri is the 280 Brooklands, the last generation of the now legendary coupe, made famous in the TV series The Professionals and also in Only Fools and Horses. Now with a cult following, this limited-edition Brooklands, one of 1,038, has been with just three owners and one for 27 years. Now fully restored and with 82,000 miles on the clock is estimated at £18,000 to £22,000.
Let's take a look at Ford's next offering the Escort, again a car that became very popular giving rise to several Fast Fords over the years. The highlight car here has to be the 1971 Mexico, built to honour Ford's rallying past and now very desirable. This is a UK-supplied battery in the boot car finished in the correct colour scheme of Sebring Red with white stripes. Now fully restored to a very high standard retaining the original seats and steering wheel this is a matching numbers shell and engine car. Been with the current vendor for the last six years and now offered from his private collection, this is a very important car estimated at £35,000 to £40,000.
Our next Escort is a 1973 Mk1 which has been prepared for competition as well as road use. Capable of being used in hillclimbs, sprints or club rallies, this is a very smart looking car for an estimated £10,000 to £12,000.
The third Escort is the rare and very sought after RS1600i. Estimated at £12,000 to £15,000, this is a very highly regarded car in the RS Owners Club having been featured in both their magazine and calendar. Available for only three years, 1982 to 1984, this is a clean and tidy looking car in Sunburst Red and with the black decals.
The final Escort is from 1990, an RS Turbo. This series 2 car has been with the current vendor since 2001 and spent most of its time tucked away with limited use. Offered at an estimated £18,000 to £20,000 it is now fully recommissioned with some improvements and just 29,262 miles.
The final car is the 1973 Cortina 2000 GXL. This was the top of the range model back in the day and is very similar to the car featured in Life On Mars with Philip Glenister. Estimated at £8,000 to £10,000 this is a wonderful car with 48,000 miles on the clock and three owners. Offering scope for improvement, this car spent 20 years in storage early on and then again later in life for another 7 years. A great opportunity to get into classic car ownership.
Gary continued: "Loving these fast Fords, all very well looked after and offering something for fans of the marque with some fine early classics."
If you can't make it on the day you can bid online, via the phone or leave a commission bid. Otherwise, come and see us for viewing on Friday 6th December from 12pm to 6pm or on auction day which gets underway on Saturday the 7th from 11am.
Classic Car Auctions can be contacted on 01926 640888 or email enquiries@classiccarauctions.co.uk and would be happy to talk with you about any of the cars consigned, alternatively, have a chat with them on the day.