Based in two sites of Nr Stonehenge Wiltshire and Central London, Dart Motor Storage is a highly specialised, secure and fully insured facility to store cars and collections.
The Perfect Environment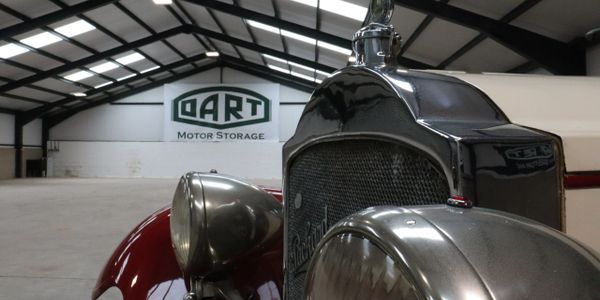 Our newly built and fully insulated hangar is dehumidified to 50-60% ambient humidity. This creates the perfect condition for automobile storage allowing moisture to dry, preventing rust without over drying leather and rubber parts. Dehumidified car storage is the best way to store your car!
With our top of the range security and fire detection systems you can rest assured your vehicle is safe with us.
We are also fully insured against any damage caused whist your vehicle is in our care although we ask that every vehicle has its own policy and that the insurer is informed that your vehicle is with us. This normally results in a lower premium.
24/7 Access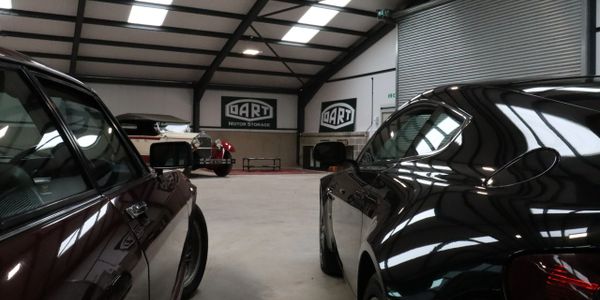 With 24hrs notice we will have your vehicle ready to collect at any time. For out of hours collection your vehicle will be moved to a secure, covered collection point and you'll be supplied with a code giving you access.
On return your vehicle will be steam cleaned and dried before being put away and thorough inspection undertaken. Any defects will be noted and photographed and care plan put in place. We can manage the tyres, batteries and fluids keeping your vehicle in the best condition possible.
Vehicle trailers can be stored securely on site and lockers are available for parts. We are happy to tailor a bespoke automobile storage package.
Ideally Located
Set in a discrete location on the fringe of Salisbury Plain minutes from Stone Henge, Dart is gateway to some for the best and most scenic driving roads the South has to offer. We also have a secure facility in Central London.
With Thruxton Race Track on our doorstep and transport available we welcome race and track day cars.
With access to Salisbury Plain's Byways directly from our site Dart is also a perfect location for 4×4 enthusiasts.
We also have access to large yard space ideal for hosting car meets and drive outs.
Your vehicle transportation
With our covered trailer we provide covered vehicle transport any where in Europe:
All our drivers are very experienced ranging from Ex police drivers to commercial pilots
We are also happy to arrange the export/import of your vehicle to/from any destination in the world. Our team will handle all paperwork and supervise all loading/unloading.
If track days are your thing we will happily transport your vehicle to any track in the UK and return it when finished leaving you able to relax and enjoy the day.
What's Included
Every car that comes to us gets a thorough steam clean on arrival unless specified otherwise. Using steam gives a deeper clean whilst reducing the risk of paint damage that may occur with standard high pressure washers. It also means the cars are faster to dry and gives a better post clean finish.
Your vehicle will be thoroughly inspected and any defects logged and photographed.
Should your vehicle require a drip tray one will be provided.
All vehicles stored with us will have their tyres regularly inspected and correct pressure maintained for best possible automobile storage.
Extras to Your Care Plan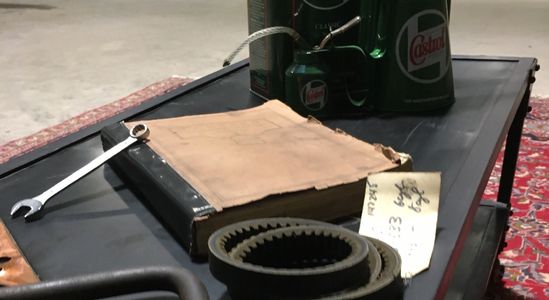 So that every vehicle's needs are met we are happy to provide a bespoke plan for every car in our care.
We are able to test drive your car on the public roads around a route that will highlight any maintenance needs. Alternatively we are able to drive the car around the private estate we are based on or allow the car to run stationary inside our hangar.
We can supply battery maintainers, bespoke fitted covers and manage the vehicles fluids.
We are also able to have MOTs carried out and services arranged so your is never out of date.
Specialist Services
We are happy to arrange any specialist service for your vehicle and depending its needs have it carried out on site. All providers come recommended and used by the Dart team.
We can arrange- Detailing and Valeting – Servicing and MOT – Customisation – Restoration – Parts sourcing
Dehumidified Storage Prices
All vehicles in our care are stored in a dehumidified environment covered in our base price. We also wash down every vehicle that upon entry to the storage facility. The facility is cleaned regularly and any uncovered cars are dusted. Below are our Dehumidified Storage Prices.
The storing of owners most cherished cars and collections is no small thing, so we like to speak to our customers to ascertain the exact needs of their vehicles. If you would like to know more call us on DD: 01722 698000 Mob1: 07894 500899 Mob2: 07896 794546 Email us at info@dartmotorstorage.com or go to www.dartmotorstorage.com