Welcome to The Suburban Collection part of the Global Logistic Services group. On behalf of our staff, thank you for visiting this SVA page and our own website and giving us an opportunity to serve you our business clients online. Our commitment to perfection is exceeded only by our commitment to offer you the highest levels of guest satisfaction.
Our professional and well-trained staff is ready to assist you with your automotive needs. The Suburban Collection strives hard to make sure each and every one of our guests feels completely satisfied. It is our personal commitment to see that all of your expectations are not only met…but exceeded.
Best Wishes,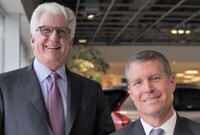 The Suburban Collection is based in Troy, Michigan and offers an array of automotive solutions to retail and industry customers, with over 10,000 vehicles in stock at our 35 dealerships.

On November 12, 1948, Suburban Motors opened its doors as a single point Oldsmobile dealership in Birmingham, Michigan and has since grown to more than 3,000 team members – representing 35 brands at over 52 locations throughout the United States and Canada. These locations, inclusive of collision centers, accessory distribution centers, fleet management and retrofitting services offer a comprehensive array of automotive solutions to retail and industry customers. Reaching this 70-year milestone is a true testament to the fact that we have never lost focus of our core beliefs – the constant pursuit of excellent service to our customers and industry partners. The company's 70-year commitment to customer service excellence is backed by a comprehensive selection of brand names, AAA-approved auto repair, Suburban Auto Parts and eight Suburban Collision Center locations.
The Suburban Collection also operates three GM-Authorized accessory distributors and installers; Accessories of Michigan, Accessories of Florida and Accessories of Chicago. The company's Competitive Vehicle Services (CVS) division ensures that the latest vehicle models are always within reach of businesses that design and test the vehicle safety of the automobiles of tomorrow. The Suburban Collection also manages the fleet of historical General Motors vehicles as Global Logistics Services.
The Suburban Collection outlets hold up to 10,000 new and affordable everyday vehicles but also those at the very pinnacle of manufacturing excellence..
More about Suburban Collection
Supporting our local communities
For 70 years, The Suburban Collection, led by David T. Fischer, has been an enthusiastic supporter of local, regional, and national nonprofit organizations. We focus our charitable giving efforts into four specific areas:

Children
Education
Basic Needs
Cancer
These four pillars are the foundation of our giving strategy. Our goal is to take an active part in enhancing the quality of life in our local communities through our charitable activities.
Charitable giving is primarily reserved for nonprofit organizations serving individuals or families in Southeast Michigan, geographically located near The Suburban Collection's dealerships. Our involvement is generally through event sponsorship, rather than project funding.
The Suburban Collection is a member of the Specialist Vehicle Association and proud to be the first of an increasing number of US companies registered as International members