A British company supporting British cars
Rimmer Bros. Raised in County Durham and apprenticed as Mechanical Engineers in Tyneside, two brothers, Bill and Graham Rimmer, started out by buying, tinkering and fettling their own Triumph Sports Cars. Later, in 1982, they founded Rimmer Bros., which operated from modest buildings at the family home in Lincolnshire. Those were the days when they bought, sold, restored, serviced and provided parts for Triumph, doing all the work themselves, for they had no other staff.
The business then grew and many years later, the brothers still own the company they founded, where they now have a loyal, expert and hard-working staff of 75 people to keep the wheels turning. Expansion seems to have been continuous during that time, such that the company HQ at Bracebridge Heath, near Lincoln, now includes 105,000 sq.ft. of storage space, tens of thousands of stock lines, millions of parts – and now covers the Triumph, MG, Rover, British Leyland, Mini, Rover SD1, Land Rover, Range Rover and Jaguar ( 1998 on ) ranges. For years it has been one of the 'classic' industry's leading concerns, which not only offers many parts which can often not be found anywhere else in the world, but backs this with an amazing record of 1,016 years of technical expertise, and a reputation for high-quality service, and for high-speed response to every request.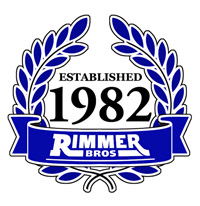 As the British motor industry has contracted, Rimmer Bros. has grown larger, to ensure that many well-loved classic cars, now out of production and no longer supported by their original makers, can still be maintained, restored, and enjoyed. While the support for Triumph strongly continues, during the 1990s the coverage of Rover SD1 models was added, and in the 2000's Land Rover and Range Rover, to include models right up to date. From 2005, our support was extended to cover more modern MG-Rover cars. In 2012 our range was further extended to cover Jaguar models 1998 onwards.
2013 saw the completion of our new warehouse built to the rear of our existing building. It effectively doubles our storage capabilities allowing our bulk Land Rover and MG Rover stocks to be stored on one site. We have also introduced a production line conveyor system into the packing and despatch building to increase the speed of order processing and despatch. With the company now well-established, the parts inventory at Bracebridge Heath continues to grow, the technical and service expertise continues to match it, and the company's strategic aim is to improve on that, even further, as space, time, and new marketing opportunities allow.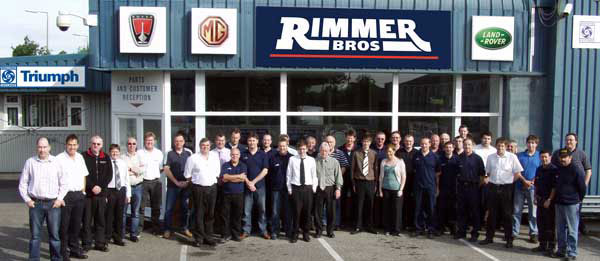 If you would like to read more about the history of Rimmer Bros, please read our 37 Year History which is being celebrated during 2019.
The stock – we are proud of the service we provide
Not only do we stock an enormous number of parts for all the cars that we cover – Triumph, MG-Rover, Rover SD1, Land Rover and Jaguar – but we employ highly experienced staff who know everything about the cars which you love, and can provide real expertise and advice about parts selection. Our main building at Bracebridge Heath was acquired in 1991, and extended in 2013 to offer 105,000 sq.ft. of warehousing . Although this is a huge double building now, it is filled by parts with more than 650,000 recorded part numbers, in more than 52,000 stock lines. Our computerised stock control system means that we try to make sure that we rarely run low in stock. Not only that, but we offer an extremely efficient telephone ordering, a 'wireless warehouse' stock control and (wherever possible) same-day despatch system, for each and every part is located where it can speedily be found, ready for delivery. Stock levels have been increasing ever since the business was founded, so much effort goes into providing yet more storage space, more expertise, and a more efficient and friendly service to our customers.
Rimmer Bros are delighted to announce the launch of their brand new 208 page MGB Parts and Accessories Catalogue. This 'must have' catalogue is available FREE to owners and has been several years in the making. It covers the UK and Non USA models of the MGB and MGB GT, including 4 cylinder and the V8 versions, please contact Rimmer Bros sales team for US and Canada specific parts. Apart from producing a nice glossy catalogue Rimmer Bros stock the parts in depth, they have been British Motor Heritage approved distributors since 1987 and have worked hard to source as many of the currently available parts as possible – and price them competitively too!
Rimmer Bros are pleased to announce that we now have available FREE to owners an updated and improved version of our Range Rover Classic parts and accessories catalogue!
Since the early 1980s, Rimmer Bros has specialised in supplying parts for British cars. In 1982 we started selling Classic Triumph parts and by the mid 80's were supplying stainless steel exhaust systems for Land Rovers and other 4×4 vehicles. In 1993, we added to our range of parts catalogues when we began stocking parts for the Rover SD1. In the summer of 2000, to celebrate 30 years of Range Rover production, we launched our parts catalogue for the Range Rover Classic. This was a natural move, as the vast majority of Range Rovers built in those first 30 years were powered by the Rover V8 engine – a subject in which we already specialised.
This was followed by our Range Rover P38a, Range Rover L322, Range Rover Sport (up to 2009), Discovery, Discovery 2, Discovery 3, Discovery 4, Freelander, Freelander 2, Defender (up to 2006) and Defender (2007 on) parts and accessories catalogues. In 2005, Rimmer Bros set up an MG Rover Parts business with catalogues covering all models and more recently added Jaguar (1996 on) to our range.
We are now pleased to return to the beginning of the Land Rover parts side of our business by introducing a completely revamped and updated parts and accessories catalogue for the Range Rover Classic, to replace the old catalogue that has served us and our customers so well for the last 21 years. This new catalogue details what has been a continuously growing range of genuine, original equipment manufacturer (OEM) and aftermarket parts and accessories. Our website also features this catalogue plus any new products or part number changes.
This updated 210 page catalogue has been produced specifically to cover the Range Rover Classic 1970 to 1995. It includes comprehensive listings of parts, upgrades and accessories.
Catalogues for other Land Rover models are also available upon request. Contact us for your FREE copy Tel: 01522 568000 Fax: 01522 567600 Email: lrsales@rimmerbros.com or visit our website www.rimmerbros.com"
PLUS! MG Rover 200, 400, 700, Sterling, Vittesse and other models
The definitive go to provider forMG parts and spares in the UK
Rimmer Bros aim to offer a choice of both quality and price points where they can, with Genuine, OEM, Aftermarket and Uprated parts all clearly identified. Their fast and efficient Worldwide mail order service means you can expect to receive them quickly.
MGB owners are invited to visit their website www.rimmerbros.com which features an online version of this catalogue, showing current availability and prices in multiple currencies. Ordering MGB parts has never been easier!
2019 marks the 95th Anniversary of the registration of the MG brand, with the development of the MGB beginning in 1958 as codename MG EX 205. In addition, it is the 37th Anniversary of Rimmer Bros, more details are available on their website "About Us" pages.
Their UK call centre and sales counter are open 8:30am to 5:30pm Monday to Friday and 8:30am to 1:00pm on Saturday. Their US based call centre handles calls at other times and during busy periods. Effectively they are open up to 20 hours a day, 7 days a week!
To order your FREE catalogue call +44 01522 568000 , email sales@rimmerbros.com or visit www.rimmerbros.com."